The New Connex Inventory Planner
When it comes to the modern e-commerce landscape, information is power. But not just any information – actionable insights are what truly drive success. We recognized this need and built upon it.
As we transition our brand's ethos from merely corporate to one focused on "high quality" and "caring," we are thrilled to unveil our latest innovation – The Connex Inventory Planner.
This tool embodies our dedication to your success, ensuring every decision is backed by accurate, real-time data. With Connex Inventory Planner, you'll be effortlessly managing your inventory while increasing sales.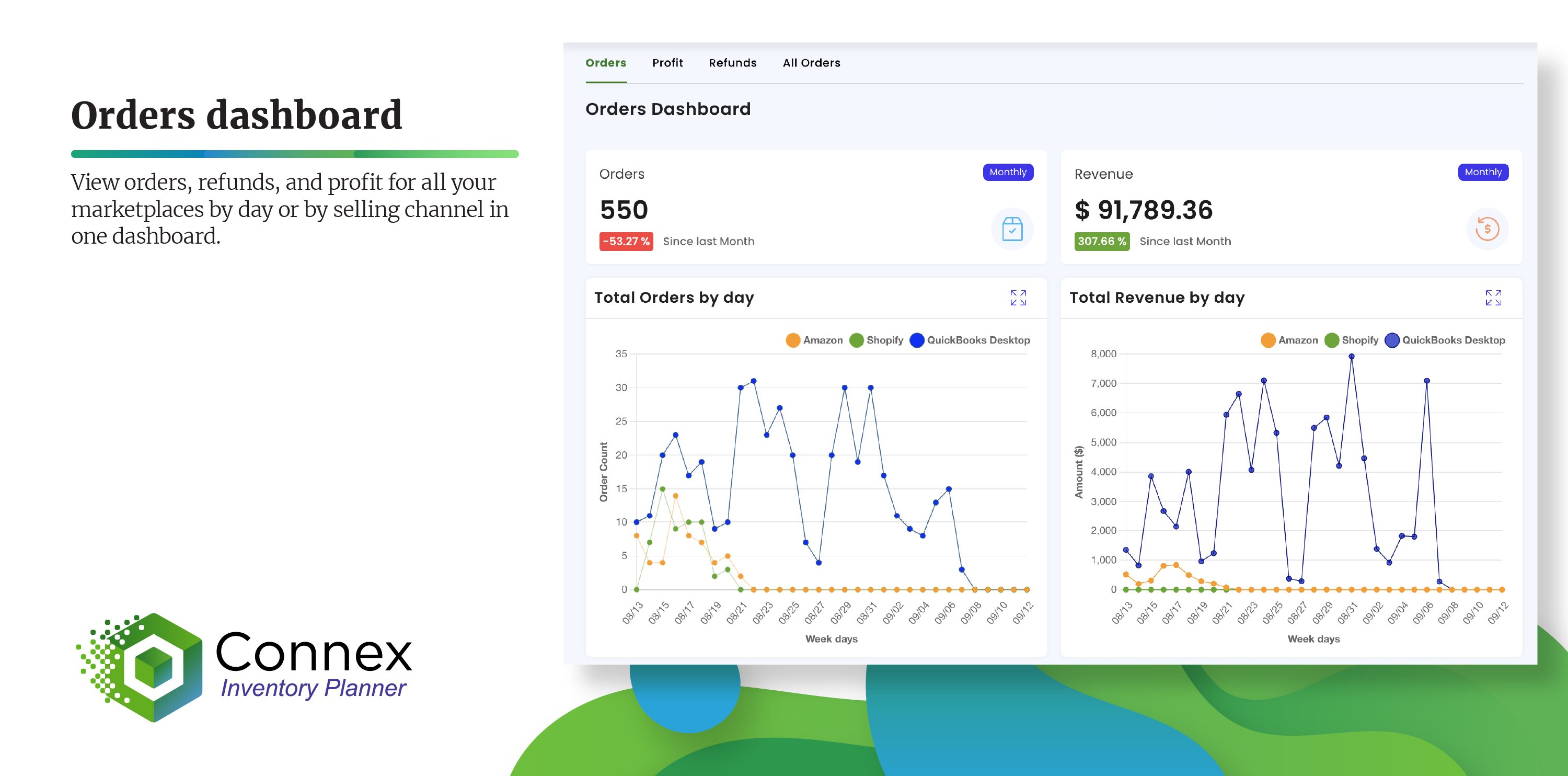 Efficiency and Intuitive Reporting
Have you been relying on confusing spreadsheets and intuition for inventory management? Say goodbye to guesswork and step into the future with our Inventory Planner. With this tool:
Reports become intuitive, immediately accessible, and shareable with your stakeholders.

Ordering Inventory is based on sales history, ensuring you order what sells, not what you "feel" might.

Forecast Sales and Plan for booming sales periods and ensure you're fully stocked with bestsellers.

Optimize Amazon Ads,

understand the ROI, and channel your resources where they yield maximum returns.

Minimize overstocks and Free your cash flow from being tied up in slow-moving.

Make strategic decisions about which products to promote or discontinue to grow profitably.



Your Business Pulse in Real-Time
The Connex Inventory Planner Dashboards equip businesses with real-time insights, streamlining operations and ensuring informed decision-making. Here is what you can have access to:
Orders Dashboard
Immediate Overview:

Instantly see daily orders, monthly units sold, and total sales revenue.

Marketplace Insights:

Dive into detailed analytics segmented by various marketplaces. Determine where your sales thrive.
Profits Dashboard
Profit Analysis:

Quickly gauge your total profit and break it down by different channels.

Maximize Profitability:

Pinpoint both your top-performing and underperforming products. Our tool alerts you to inefficiencies, guiding you to refine your focus for better results.
Refunds Dashboard
Stay Updated:

Monitor monthly refunds and categorize them by channels.

Loss Prevention:

Identify recurring refund patterns, gain clarity on areas impacting profitability, and take steps to minimize unwarranted losses.
Products Dashboard
Stay Ahead:

Leverage our forecasting tools and seasonality insights. Predict market trends and always be prepared for what's next.
Empower your business decisions with Connex. Make informed choices about your inventory management, optimize operations, and drive your business forward.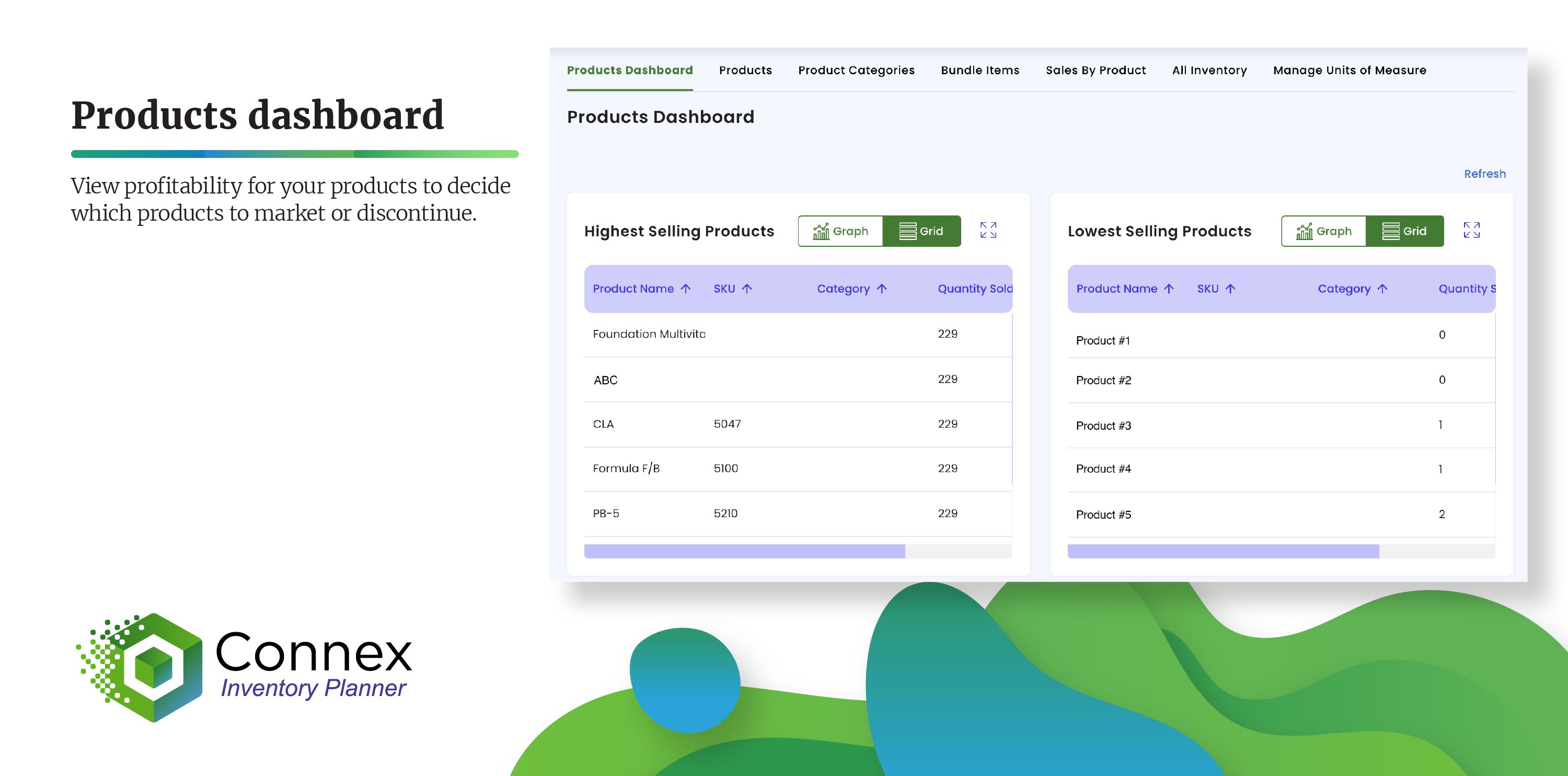 Features of Connex Inventory Planner
Everything from units sold, product sales, and total orders to profitability is at your fingertips. Understand when to reorder products, especially crucial during peak seasons. No more overstocking or underselling.
Get alerts when inventory runs low. Additionally, our imminent integration with units of measure ensures you're always ahead.
A stellar feature that helps you distinguish your star products from the underperformers. It gives a clear picture – you might realize that a significant chunk of your product list might be underperforming, yet your revenue remains unaffected when discontinued.
Additionally, the analysis tool gives you insights into the performance of bundled products versus individual ones.
We pride ourselves on the seamless integration capabilities of our software, directly connecting to platforms like Amazon, Shopify, Woo, and Shipstation without needing third-party plugins.
With an easy-to-use interface and a setup time of just a couple of minutes, we're offering an alternative to the drawn-out processes of other tools in the market.
Whether you're using QuickBooks, Zero, Freshbooks, or something entirely different, our software remains invaluable for your business.
With our special promotion, you can avail a significant discount on our silver, gold, and platinum plans, offering varying levels of marketplace access and feature-rich modules.
We don't just provide a tool for you to view your data; we ensure that the data is precise. For instance, our method of calculating the Cost of Goods Sold adopts a First-In-First-Out approach, unlike many other systems.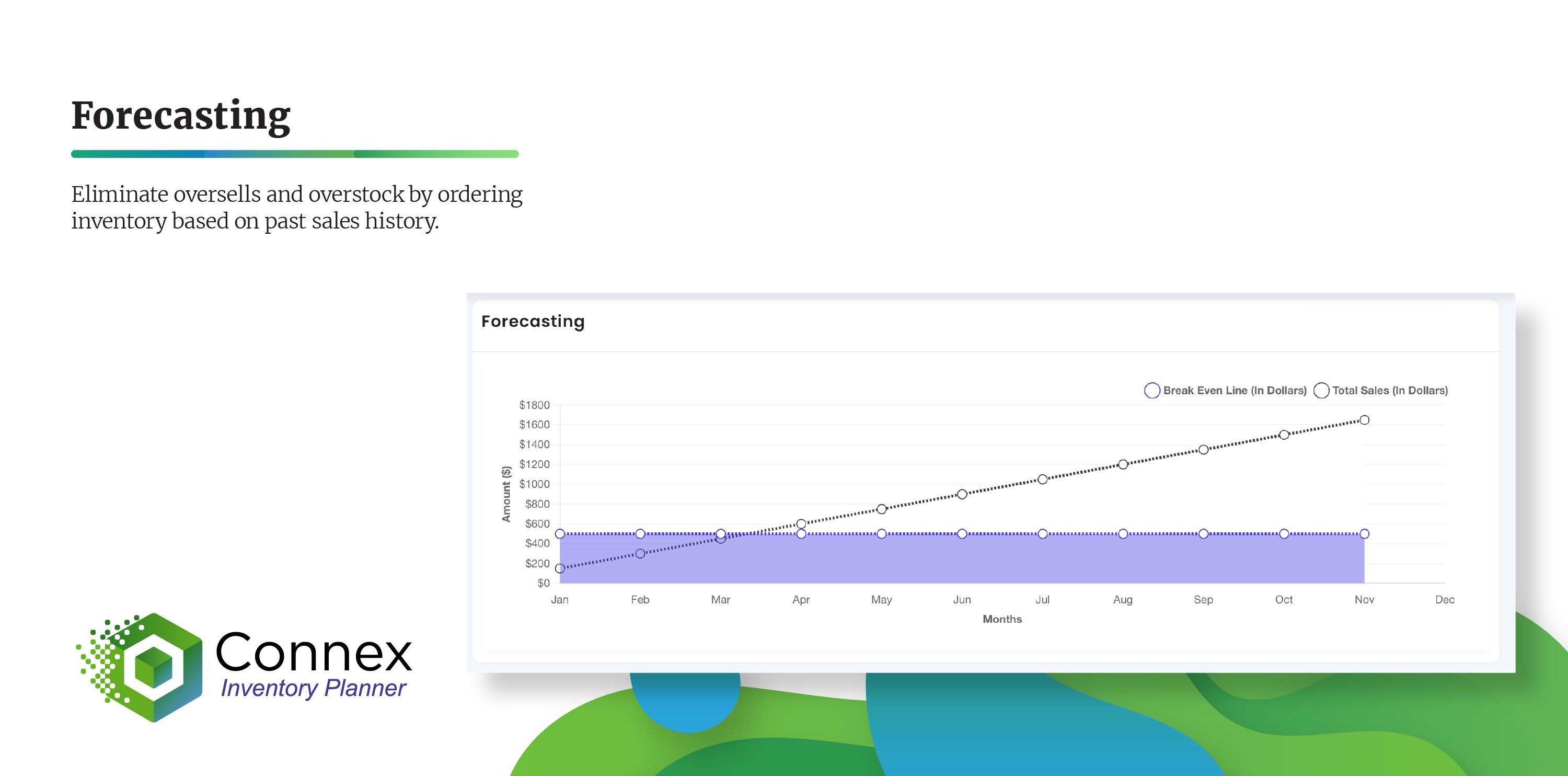 Why Choose Connex Inventory Planner Over Others?
In today's competitive e-commerce landscape, it's not just about having an inventory management tool; it's about having the right tool. Here's why Connex Inventory Planner is a cut above the rest:
Ease of Use
We understand that time is of the essence in e-commerce. That's why we've designed our platform to be user-friendly. Even if you're not tech-savvy, you'll find our interface intuitive and straightforward, eliminating the steep learning curve associated with many other tools.
Quick to Implement
In the fast-paced world of e-commerce, every moment counts. Our solution is a turnkey one, which means you can get it up and running in no time. Say goodbye to lengthy setups and hello to immediate insights.
Our Secret Sauce - The Rules Engine
At the heart of Connex Inventory Planner is our proprietary Rules Engine. This powerful feature allows users to customize the solution to their unique needs, ensuring that you're not just working with data but with insights tailored specifically to your business.
Seamless Integrations
We pride ourselves on our ability to integrate with major platforms seamlessly. Whether you're selling on Shopify, managing shipments through ShipStation, or dominating the Amazon marketplace, our software integrates effortlessly, ensuring a smooth flow of data and insights across all platforms.
Choose quality. Choose care. Choose success. Welcome to the future of inventory planning.
Integrating with Accounting Powerhouses
We've seamlessly integrated our planner with popular accounting solutions like QuickBooks. Get insights such as items sold, total revenue, refunds, and profits - all presented in a format designed for decision-makers.
Starting with our Amazon Dashboard, it's more than just numbers. You see fees broken down, gross values, and costs. For the genuine e-commerce warrior wanting true cost insights, integrate directly with QuickBooks for accurate Cost of Goods Sold (COGS) data.
Orders Dashboard
Navigating to the Orders Dashboard, you'll find everything from order lists to total revenue patterns and customizable date ranges. It's like having a pulse on your business's heart.
Have you ever thought about forecasting?
Our dashboard allows you to project based on sale prices and units sold per month. For instance, set a sale price at $20, predict five units sold per month, and our tool forecasts how long before you break even.
Our goal is to take the vast ocean of data and convert it into a clear, actionable stream of insights. As the e-commerce world evolves, we ensure you stay not just one but several steps ahead. Come experience the future with Connects Inventory Planner. Contact our team today.